We Want to Know: Gwen Stefani
The media loves to speculate on whether or not celebrities have had plastic surgery, and especially when they're as beautiful as Gwen Stefani. We want to know all about what they've done, because if it worked for them, then hey, maybe the same procedures will work for us too. Whatever the case may be, curiosity or an obsession with celebrities, sometimes speculation may be way off and overdramatized, leading people to believe they've done more than they actually have.
Too Much or Just Right?
Stefani received a lot of backlash after appearing on the 2020 Grammy awards. Many people jumped on social media to talk about her "frozen face" and how it looked like she's had too much cosmetic surgery. Headlines and tweets filled social media as people took a stab at what the pop singer may have done. Some of the headlines read:
"Gwen Stefani, 50, accused of getting plastic surgery as she looks 'frozen' and 'unrecognizable' at the Grammys."
"Oh my gosh, what did Gwen Stefani do to her face?"
"Hey Gwen, stop with the plastic surgery and Botox on your (once) beautiful face. You're starting to look as fake as Madonna."
Dispelling the Rumors
It's easy to criticize, of course, but what do you think? If she has had a few procedures, do any of them look overdone? I mean, she is 50 years old and looking pretty flawless. We turned to Dr. Jason Pozner, a board-certified plastic surgeon in Boca Raton, Florida, to get a reasonable take on the Gwen Stefani plastic surgery rumors.
Pozner says it looks to me like she's just aged a bit and lost a little bit of weight. Starting from the top and going down the face Pozner says, "Her brows are a little thicker, and her forehead looks like she's had a little Botox, or maybe it's just photo-shopped. Okay, it's all sounding pretty standard so far and not that drastic.
Pozner continues, saying that her nose looks pretty much the same, and we agree. Nothing that a little contour can't handle to make the bridge of the nose look slightly thinner and more sculpted.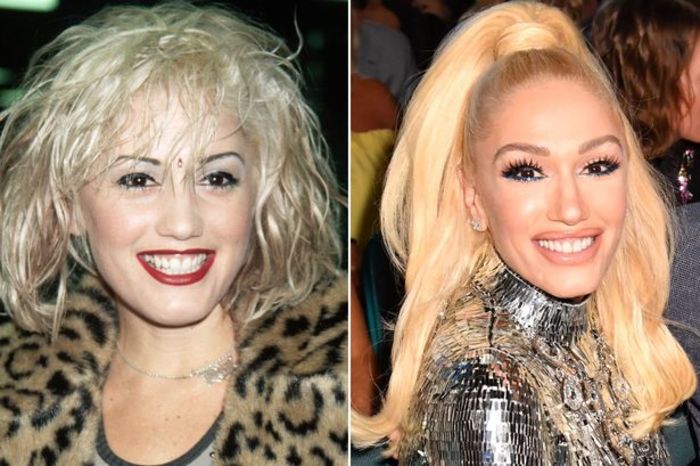 "Her lips are a little fuller in this photo, and it looks like she probably had some filler in her lips," states Pozner. Again, we can see that her lips do look fuller, but we wouldn't go as far as saying they're overdone. As we age, our lips become less plump, and a small amount of filler in the lips, when done well, can look really nice.
Next, Pozner states that her cheeks are definitely more prominent and that's she probably had some filler placed at her cheekbones. Loss of volume in the mid-face is a common problem as we age. Not only do we lose fat in our faces, but we also begin to lose bone. Adding filler to the cheek area can bring back some of the fullness you had when you were younger and lift a little bit of the sagging in the mid-face area.
Stefani Aging Well
All in all, Pozner thinks some Botox in the forehead and some filler in the cheeks and lips. "She's a very beautiful woman, and she's aged very well," says Pozner. So let's give the girl a break and say, she's probably done a few non-surgical tweaks that are very common for a woman her age. Well done, Gwen!