What is CoolSculpting: Non-invasive Treatment for Fat Reduction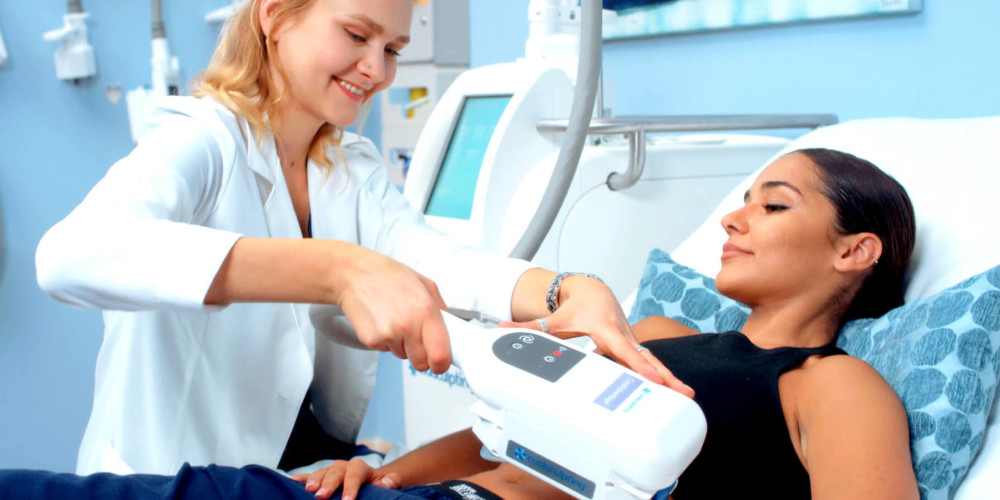 By Chelsea Campbell
By now, we all know the best and most effective way to lose weight and look toned is through a proper diet and regular exercise. But what happens when you heed this sound advice, yet are still left with stubborn areas of fat that just won?t go away? What do you do when you?ve tried it all, and don?t want to resort to a surgical procedure like liposuction to get rid of those lingering problem areas? The answer might be CoolSculpting.
What is CoolSculpting?
What exactly is CoolSculpting? CoolSculpting, is an FDA cleared fat-freezing procedure for non-surgical fat-reduction that uses controlled cooling to eliminate stubborn fat that resists all efforts through diet and exercise. A doctor or clinician uses a handheld device to target areas of stubborn fat. Such areas are most likely on are the lower abdomen, love handles, arms, back, inner thighs, and under the chin. At a certain temperature, the fat in the cells crystalize, inducing ?programmed cell death? over a two to three month time period, after which the fat is reabsorbed and redistributed around the body. Given that this treatment actually kills off fat cells, the fat will migrate elsewhere, but not in the treated area, making it quite effective long-term. The result is a slimmer, more streamlined appearance in the target area.
The Procedure Experience
CoolSculpting requires a physician assessment about your areas of concern in order to decide whether CoolSculpting is right for you. Some areas of fatty excess might take more than one treatment for optimal results, and this is something that can be discussed at the consultation. On the day of treatment, the clinician will reassess, take images, mark out the treatment areas, clean the skin, apply a protective sheet to prevent the skin from freezing, after which the cooling device will be placed on the target area. Suction device will draw in both skin and subcutaneous fat into a vacuumed applicator cup followed by a gentle cooling of the tissue. However, most sensation disappears within a few minutes as the area numbs, and you are free to read, work on your handheld device, or even take a nap! Most treatments last between 35-60 minutes per area treated.
The Results
Because it is a non-surgical and non-invasive procedure, there is absolutely no downtime and many patients even return to work the same day! That being said, it is not uncommon to have bruising, swelling, and occasionally delayed onset pain after a CoolSculpting procedure. You will see results from CoolSculpting in two to four months. You can expect a 25% reduction in the fatty area treated. It is important to note that CoolSculpting is not a weight loss remedy, nor is it an alternative to good old fashioned healthy eating and exercise. It can, however, be the answer you have been looking for if a balanced diet and active lifestyle have not been effective at eliminating stubborn areas of fat. CoolSculpting is not cheap and will run you an average of a $2300, so it should be considered after other methods of diet and exercise have been proven ineffective over the long-term. The good news is that this is a quick, effective method for improvement of persistent problem areas!
Keywords: coolsculpting, fat reduction, non surgical fat reduction, coolsculpt, fat freezing, freezing fat, fat cells, getting rid of fat, eliminating fat, lower ab fat, back fat, arm fat, thigh fat, love handles
GLOSSARY
Nonsurgical Fat Reduction
Nonsurgical Fat Reduction
Nonsurgical fat reduction is a noninvasive body contouring procedure that can reduce fat without surgery or anesthesia, and it typically comes with less downtime. Popular nonsurgical fat reduction procedures use either controlled cooling (CoolSculpting) or controlled radiofrequency technology.
CoolSculpting
CoolSculpting is a nonsurgical fat-reduction procedure that uses controlled cooling to target fat cells in different areas of the body and destroy these cells with a process called cryolipolysis. After some time, frozen fat cells die and are flushed out of the body through the lymphatic system.
RELATED BEFORE & AFTER