Treating Acne with Laser Technology
By Carolynn Grimes
If you're one of the 50 million people suffering from acne each year, you know how frustrating it is to live with and to treat. Dr. Arisa Ortiz, a board-certified dermatologist and the director of Laser and Cosmetic Dermatology at UC San Diego Health says acne is one of the most common conditions she sees as a dermatologist.
According to the American Academy of Dermatology (AAD), clinical studies indicate that between 40 and 55 percent of the adult population age 20-40 are diagnosed with low grade, persistent acne and oily skin. And if you're a teen, the statistics are even more depressing. A whopping 85 percent of teens get acne.
A Non-Invasive Alternative
Some patients want an alternative treatment, states Ortiz. "They don't want to take antibiotics, or their medications haven't worked for them, and so they're looking for non-invasive treatments." Dr. Ortiz uses the NeoClear laser by Aerolase in her practice. As she demonstrates the laser on one of her patients, Ortiz tells us the patient's topical treatments were no longer working very well.
"She's very comfortable in the procedure. There's really no pain. It feels a little bit warm as the laser pulses across the face. We do this three times (across the face), so the procedure takes about 10-15 minutes in total."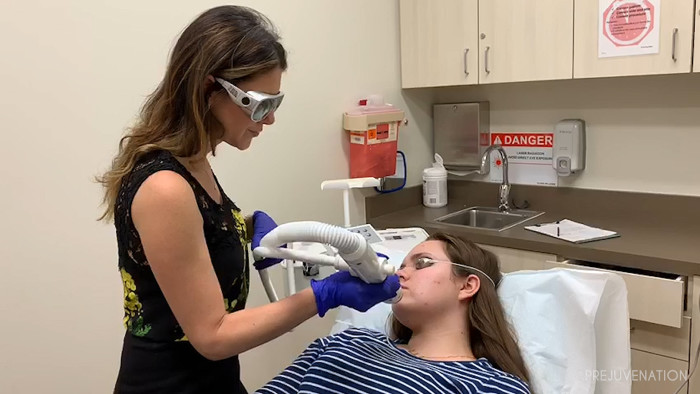 How NeoClear Works
The laser energy destroys acne bacteria and reduces inflammation to control your current breakouts while inhibiting sebum and oil to lessen the likelihood of future breakouts.
The nice thing about NeoClear says Ortiz, is there's no downtime. "Patients can go right back to school or work or whatever they need to do. You might be a little pink for maybe 10 minutes after the procedure, but otherwise, there's literally no downtime."
After about three to four treatments performed one to two weeks apart, Ortiz says the acne usually clears right up. "You may need a touchup treatment here and there, but usually the four treatments tend to be enough."
The Serious Effects of Acne
For many, acne can be more than just an annoying skin disease. The AAD says acne can take a toll on a person's emotional health. Researchers have found in study after study that people with acne can develop:
Depression

Anxiety

Low self-esteem

Poor self-image

Decreased quality of life

A feeling of being all alone
So for patients who are looking for an alternative treatment, the NeoClear may be a good acne treatment option that can be used alone or in addition to other medical treatments.
THIS ARTICLE IS PART OF
Acne
RELATED BEFORE & AFTER