We Want to Know: Renee Zellweger's Eyes
Everyone is wondering what has happened to Renee Zellweger's eyes... again. She's kind of been out of the limelight for a while but now she's starring in her latest role about Judy Garland, and it looks like she's had eyelid surgery for a second time.
"I'm sure you most of you remember several years ago, people were appalled when Renee Zellweger clearly had eyelid surgery. And I think the thing that was most upsetting to people was that she didn't look like herself," says Dr. Ashley Gordon, a board-certified plastic surgeon in Austin, Texas. "It's not like she had a bad eyelid surgery, I think it looks good, it looks normal. But when she was younger, she had these really full upper lids. So she basically didn't have any space between her lash line and the crease," explains Gordon.
Before her first eyelid surgery, Renee had full, fatty upper lids and that's what gave her, that unique signature look. But when she had eyelid surgery, they took that volume away by removing the fat.
"I think that she's gone back to what she had before," says Gordon. "Also, in these pictures, she really wasn't taking care of her eyebrows. She's had her eyebrows trimmed, they're framing her eyes a little bit better, but she's clearly had fat transfer to this entire area of her upper lid, to give her that same very full upper lid that she had in the past."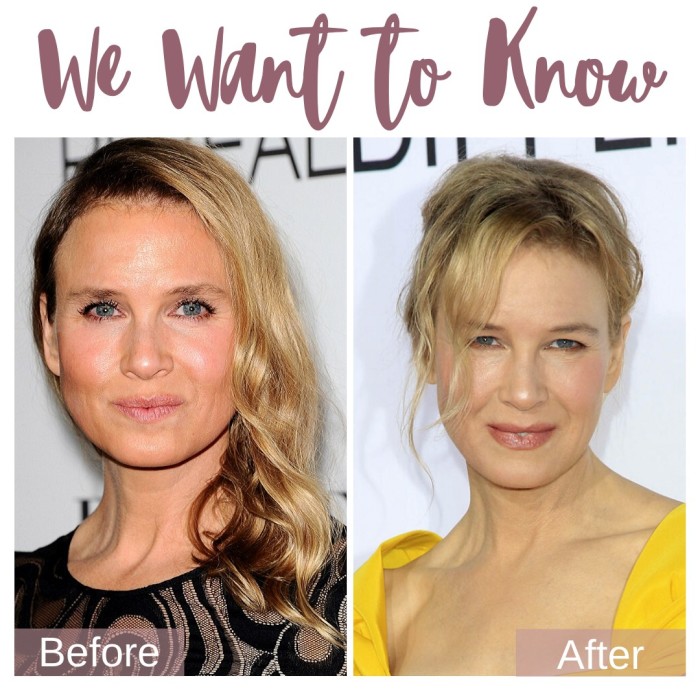 She looks great both ways and we agree with Dr. Gordon that it was unfair people were so critical of her. It seems she's now back to her old self and looking as young as ever. Please remember we never know what anyone has done exactly if they are not patients of Dr. Gordon. This is all speculation and meant to be engaging conversation.